The Quest For Another Guitar For 2021
Another guitar? Do I really need one? Will it improve my skills?
Yes. Maybe. Probably not.
One thing I've come to realize is that no matter how many guitars I have, I probably won't stop getting another one. There was a time I had 16. Thank God I've somehow managed to decrease that addiction.
At the start, the only reason why I loved getting guitars was because I liked the way they looked. I've had so many traditional and weird guitars that I've finally narrowed what I want to the classic single-cut style. That would be the Les Paul type of guitar body shape.
So, with that, my next guitar is probably going to be another one of those. Probably.
What Am I Looking For?
I'm a very simple guitar player. So why do I need another guitar?
Simple. I still haven't found what I'm looking for.
My idea of a perfect guitar is a Les Paul with a small body, a 24-fret neck, a single pickup, a Floyd Rose system, a volume knob (I don't really believe in tone knobs), and a kill-switch.
The small body is so I don't have to end up with a sore back and shoulders after performing onstage. The 24-fret neck and Floyd Rose trem system is so I can really do something. The kill-switch for some weird stuff I want to do with my music.
Sadly, there are no guitars out there that fit what I truly want. Maybe I'll make one in the future. Or maybe you know one such guitar exists. If you do, please send me a message or comment below.
Guitars I Currently Have
The only reason why I can be a bit frivolous with my choices for another guitar is because I already have the guitars I need at home. I currently own two electric guitars and one acoustic guitar I borrowed from my brother-in-law.
So, if I already have those, why get another one?
Ok, lemme tell you a bit about these guitars:
Epiphone Les Paul Special VE (Vintage Edition) Cherry Sunburst
My main guitar is the Epiphone Les Paul Special VE. This is the guitar I use for performing and recording music.
What I like about it is the worn look and relatively light weight. It sounds good, has a good neck and does what it's supposed to do. That's all I really need from a guitar.
Les Paul Express
I actually got this guitar for laughs. I mean, look at how tiny it is!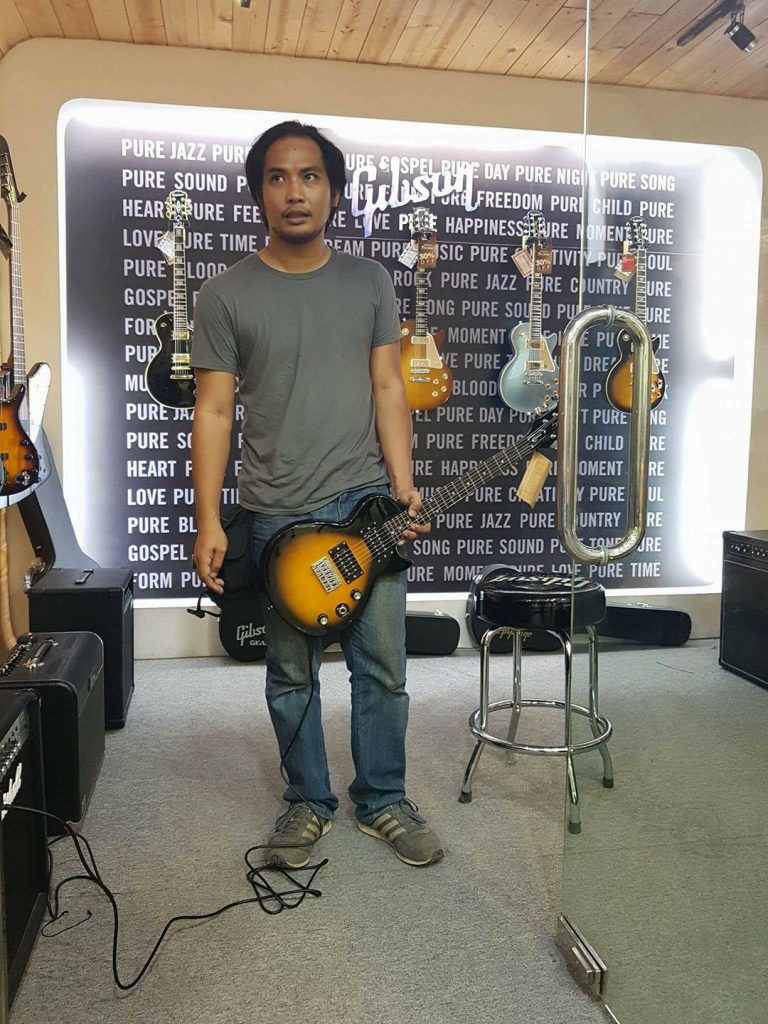 Contrary to popular belief, the Les Paul Express can actually hold its own onstage. Sure your tuning's going to get wonky over time but it's an instrument worth exploring. My bandmate and I actually modified it by swapping the neck out on the VE to the Express and I managed to have a full-length neck on a small-bodied Les Paul.
It was ok but there were a lot of dead frets nearest to the body so after a few months of that, we swapped it back again.
That little experiment is the reason why I'll probably swap it back again but this time have the frets worked on. But, this will only happen once I have a new guitar in my hands. I'll probably have it routed to take in a Floyd Rose.
Maybe I should get another Express for this reason before I get the cutting tools out. another Express and VE. Hmmm… that sounds like a good idea.
RJ Telecaster Acoustic
Before Fender released their acoustics, RJ already had them.
And I like this guitar's sound. It's around 15 years old but it still holds up as a great sounding guitar. The electronics are gone but the neck and body are in good condition. This is the guitar I pick up when I don't want to spend too much time plugging in.
The Kramer Assault 220: Closest To The Guitar I Really Want To Get
I'm pretty much set on getting the Kramer Assault 220. It has the classic Les Paul body style I like and a Floyd Rose Tremolo. It also has 24 frets. That's all I really want.


Ok, fine. I want something like Joe Perry's Les Paul Axcess but the gold color is just putting me off. Joe Perry's Les Paul Axcess is the simplest looking Les Paul with its single pickup configuration and Wilkinson/Gotoh trem system.
I wonder who'll come up with a similar looking guitar in the future.
For now, I just wish they'd be able to come up with a White Kramer Assault Plus 220 White with Red fret markers. Maybe I'll have to have that done once I finally get one.
Les Paul Type Guitars I Might Get If I Can't Have The Kramer Assault 220
The Kramer Assault 220 isn't always available. I've tried getting it and they always send back a message saying it's not available.
So, here are some other Les Paul type guitars I might get instead:
ESP LTD Gary Holt Signature GH200 Black
This is a cool guitar with a Floyd Rose Special Bridge and 22 frets.
PRS Mark Tremonti SE
I'm actually pretty much sold on getting this guitar.
Jackson JS Series Monarkh
This is actually one of my top picks. The only thing stopping me from getting one is that it doesn't have a trem system. They also don't offer that variant.
Other Guitars I've Considered Getting
I've actually considered getting other body shapes. But I'm not too keen on getting a another guitar that has a super-strat shape simply because there are a lot of extremely good players out there using them. I just want something weird. Like A Flying V or a Warrior.
Jackson King JS32
Jackson JS32 Warrior
In Conclusion:
Whatever happens, I'll get another guitar for my birthday on March 6, 2021. Which one I'm getting, I'm not quite sure yet.
Decisions, decisions.
Related Questions:
Why Not A Strat?
I used to have a couple of Stratocasters. I don't know why I don't really like Strats as much as I like Les Pauls. Maybe it's because my idols (Slash and Zakk Wylde) use Les Pauls. But then again, Iron Maiden's Adrian Smith uses a Strat style guitar. So… decisions, decisions.
Here are some I like:
Jackson X Series Signature Adrian Smith SDX – Snow White with Laurel Fingerboard
Fender Limited Heavy Metal Stratocaster – Maple Fingerboard – Bright White
Squier by Fender Contemporary Active Stratocaster HH Electric Guitar – Laurel Fingerboard – Flat Black
If You're So Concerned With Weight, Why Not Get A Travel Guitar?
I actually had a travel guitar phase. Maybe I still do. I like the Steinberger GT a lot. It doesn't have the classic Les Paul look but it has everything I need. I just don't know where to get it.
That's the same with the Bootlegger Spade Travel Guitar. The only downside is that it doesn't have a trem system.
When's The Next Song From AcidRadius Coming?
This month. We're in the process of putting the final touches on the song "One Moment Please". We'll upload that on Spotify. Give it a listen will you?