As an Amazon Associate, I earn from qualifying purchases. That means I earn commissions from my sponsored links or I make money when readers (you) purchase items through my links. Your purchase allows me to continue working as a stay-at-home dad who moonlights as a farmer and a musician. Needless to say, this post contains affiliate links.
Yamaha YTX 125 – Easy Low-Cost Cafe Racer Build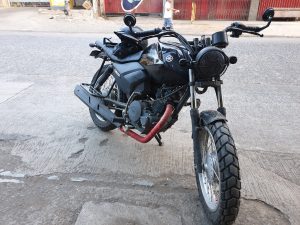 A year ago, I bought myself a Yamaha YTX 125.
The main reason why is to turn it into a tracker/scrambler hybrid.
Talk about procrastination, my cousin was able to finish his in a matter of weeks.
Mine, took a year to finally turn into what I had dreamt of.
Why Did It Take Me That Long To Build My Bike?
I didn't build my bike with my own two hands. I had help. What I basically had was a concept and Fake Hospital Motorcycle Company did the rest.
It took them 3 days to finish my bike which is saying a lot since it took me a year to finally get it done.
So why did it take me that long? Well, first of all, I wanted to make sure my bike was fully paid before I had anything done to it.
As soon as it was done, I took my bike to the market.
To buy cauliflower for my fiancee's recipe.
I live in Calinan, Davao City.
I went to Marahan to buy the Cauliflower like an obedient boy.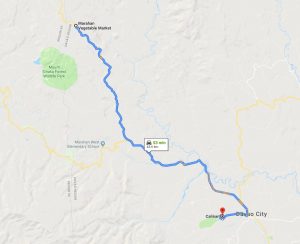 45 kilometers each way to buy 5 kilograms of greens seems like an excellent way to purchase healthy vegetables! More on that later.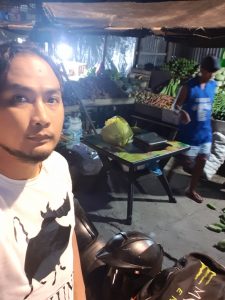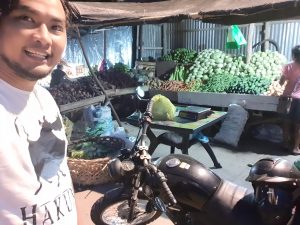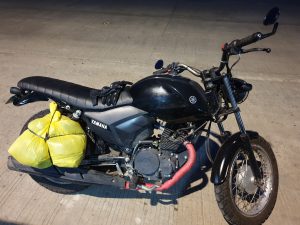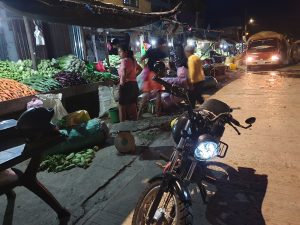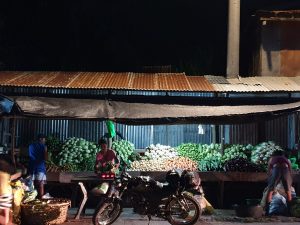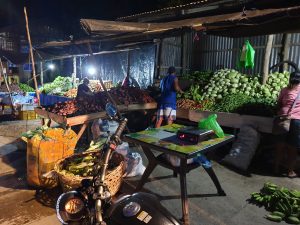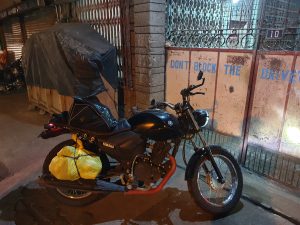 Before The Build
My bike didn't look as cool as that though. It started out like any regular, stock Yamaha YTX 125. For those who don't have an idea what that looks like, here's what a stock Yamaha YTX 125 looks like.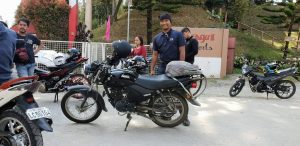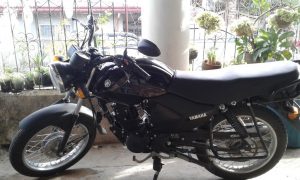 Nothing too special. The Yamaha YTX 125 is a small displacement motorcycle so don't expect too much from it in terms of speed. The best I've done so far is 115 kph and that was only for a few seconds. I have yet to reach speeds faster than that!
One of the things I initially liked about the Yamaha YTX 125 is its tank.
It's big!
Or it looks big.
Don't let it fool you. The Yamaha YTX 125's tank is flanked by plastic flarings that make it look bigger than it really is. Removing the flarings reveal the real tank which is narrow although it holds 7+ liters of fuel.
I obviously wanted to keep the tank and the passenger step board to keep the basic characteristics of the Yamaha YTX 125 intact.
I also initially wanted to get the red Yamaha YTX 125 variant but what I got instead was the black variant. And no, I couldn't wait for the blue variant, not that I like the colour blue anyway…
So I told the guys at Fake Hospital Motorcycle Company that I wanted something red on my bike. Something striking enough without overwhelming the entire project. They just nodded and said OK.
Here I am, a year before (with far lesser hair on top of my head) dreaming about turning my stock bike into a cafe racer.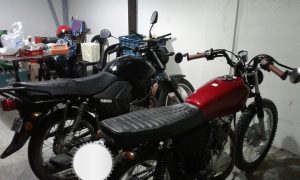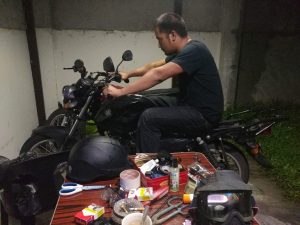 So I saved up some money. Here's how I basically did it:
and after a few months, I finally had enough money to buy these:
Bar End Side Mirrors (Php 750)
Grilled Signal Lights (Php 1500 packaged with stop light)
Daymaker Headlight (Php 2500?)
Headlight Protective Grill (Php 750)
Round Stop Light (Php 1500 packaged with signal lights 4 pieces)
TMX 125 Plastic Rear Fender (Php350)
CST 110/90/17 tubeless tire (Php 2250)
Red Thermal Wrap (Php 350)
Other parts manufactured by Fake Hospital Motorcycle Company 
Labour and other materials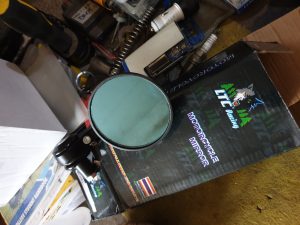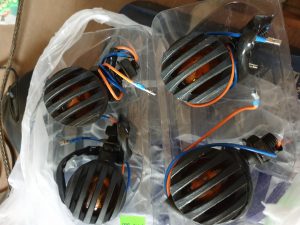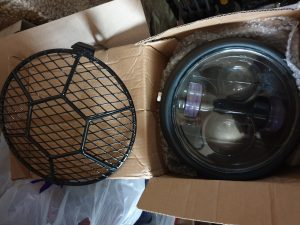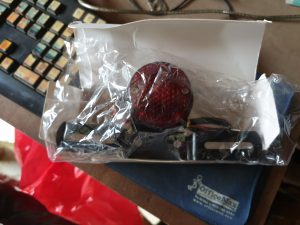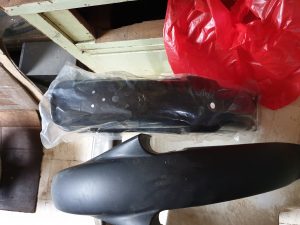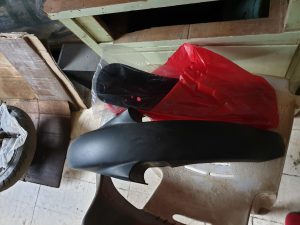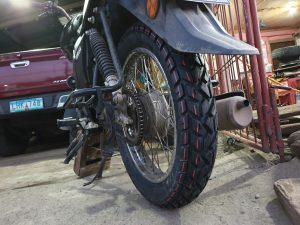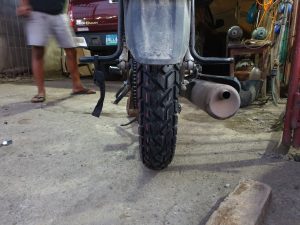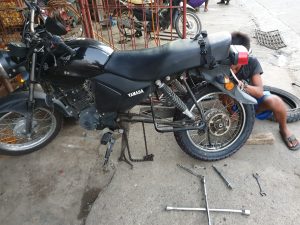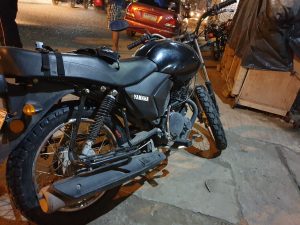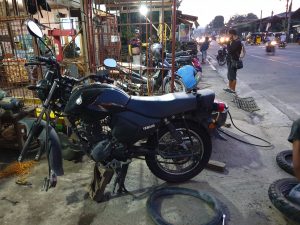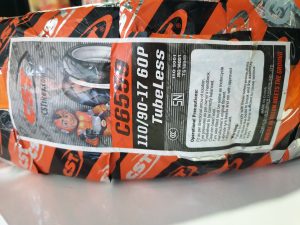 Total Cost: Php 10, 000.00? To be honest, I forget how much I spent in total. It's somewhere around that much. Give or take Php5000.00 more.
The Build Process
They replaced my rear tire with the CST 110/90/17, shaved my seat to have a lower profile, installed all the aftermarket parts and Voila!
Here are pics of the build in process.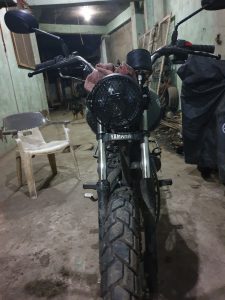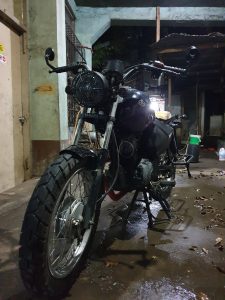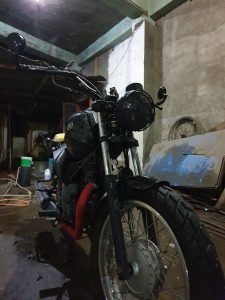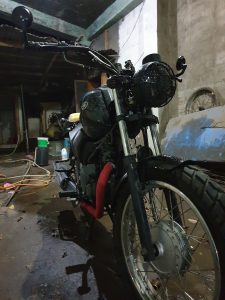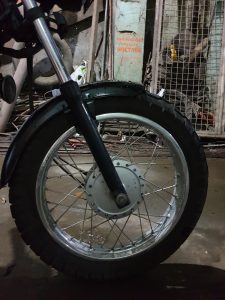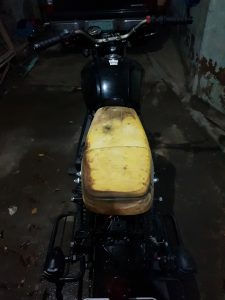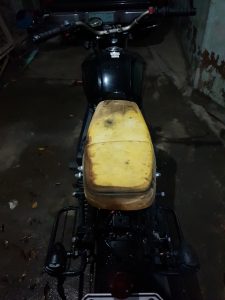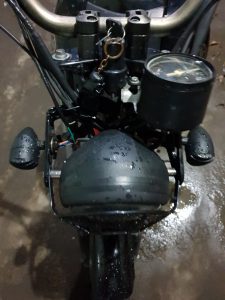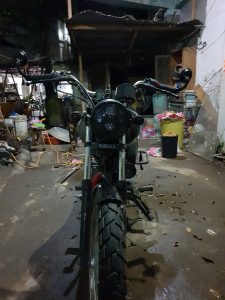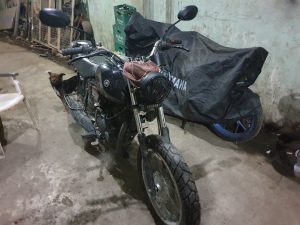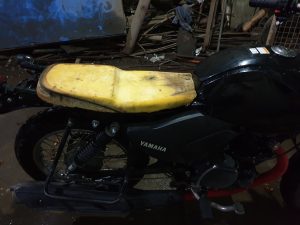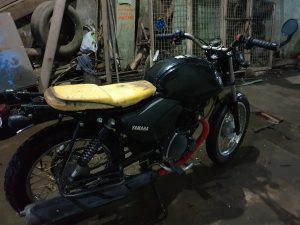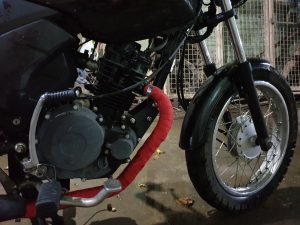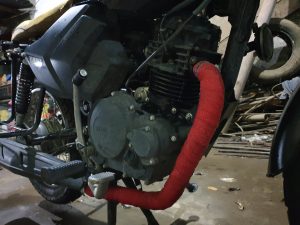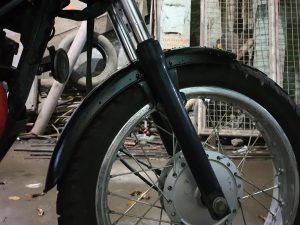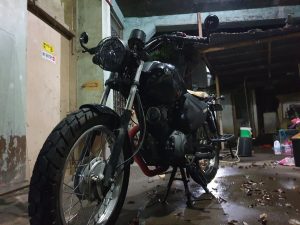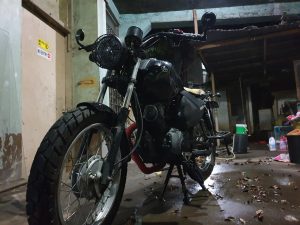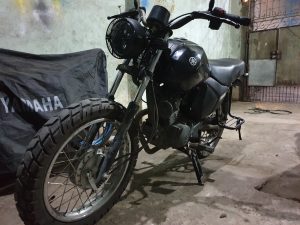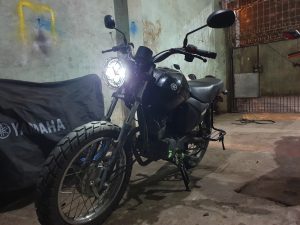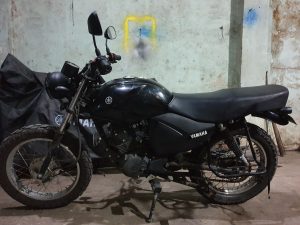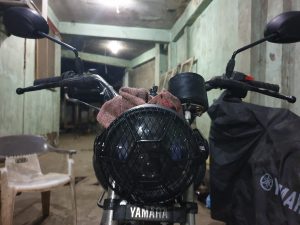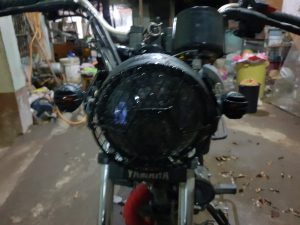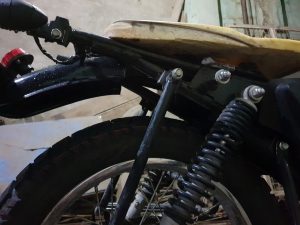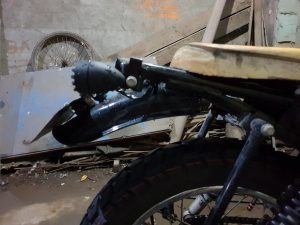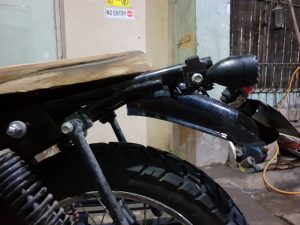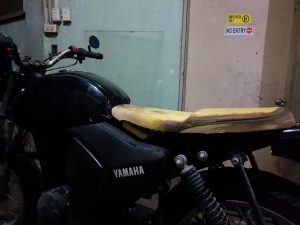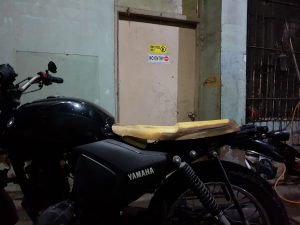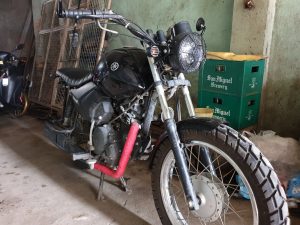 In The End, Here's My Bike!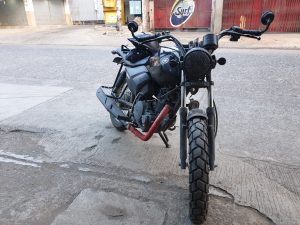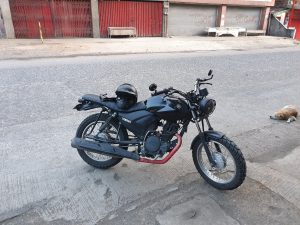 Thanks For Reading.